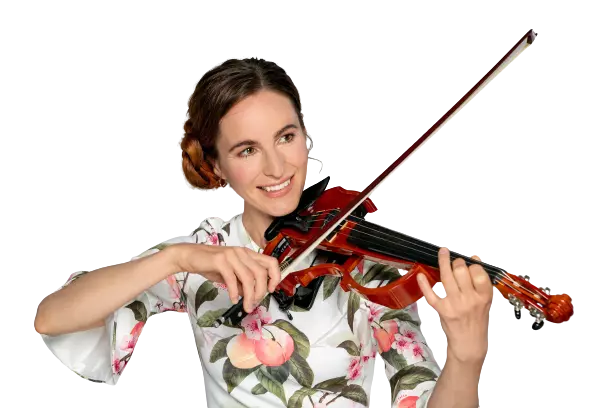 The Tale of Kirsti Hille - A Passionate Violinist Who Touched the Hearts of People on the Streets
Allow me to recount the tale of Kirsti Hille, an extraordinary violinist, deeply infused with an unparalleled ardor for music. Kirsti is a classical violin artist endowed with exceptional talent and an impressive career as a professional orchestral musician. She has performed at numerous prominent and renowned concert halls around the world, captivating audiences far and wide with her musical prowess.
In Norway, Kirsti has graced the stage as concertmaster and first violinist at the Norwegian Opera & Ballet. Her virtuosity and musical acumen have blossomed from a tender age, having embarked on a journey that took her to various locales worldwide, including the Orquesta Sinfónica de la Universidad de Guanajuato México, where she played as both a soloist and concertmaster. She further challenged herself by assuming leadership of the second violin section at the Komische Oper Berlin and later as first violinist and assistant concertmaster in the esteemed Camerata Salzburg. Kirsti also earned recognition as the youngest violinist in the Gewandhausorchester Leipzig, a testament to her exceptional talent.
Throughout her career, Kirsti has had the privilege of performing concerts alongside some of the greatest artists in the music world, including the renowned violinist Lukas Hagen. Her ability to collaborate with and inspire fellow musicians has made her a sought-after partner and cherished colleague within the music community.
However, Kirsti's world was turned upside down when the pandemic struck in 2020. Opera houses were shuttered, and the orchestral music that had brought joy and inspiration to so many was suddenly put on pause. Yet, Kirsti refused to let the pandemic silence the music. She took her violin and bravely ventured onto the streets, playing for people in need of hope and solace during these challenging times.
On the streets, Kirsti chose to play not only classical music but also modern hits on her violin. She sought to forge a more direct and personal connection with her audience than a grand concert hall could offer. People began to gather around her in ever-increasing numbers, and Kirsti's music made them weep, applaud, and reflect upon their lives. She played everything from Prokofiev's impassioned compositions to Queen's timeless hits, Elton John's emotive melodies, Imagine Dragons' energetic songs, and Coldplay's heartwarming ballads. No genre was beyond her reach when it came to touching people's hearts.
Kirsti was deeply moved by the profound response from her audience. They sent her emails, recounting how much her music meant to them. Some shared that they had stood for three hours and that her music had changed their lives by helping them realize what they wanted to change. It was then that Kirsti realized that high-quality music was not solely confined to the elegant confines of an opera house but also a necessity for people on the streets. She genuinely wanted her music to touch people's hearts and transform their lives.
Despite the challenges posed by the pandemic and the closure of traditional concert venues, Kirsti found a new and meaningful way to share her music with the world. She continued to play on the streets, creating a space where people could connect with one another through the power of music. Kirsti's passion for the violin and her genuine desire to touch people's hearts made her an inspiration to all who listened to her music.
The story of Kirsti Hille is a tale of courage, passion, and a commitment to sharing the beauty of music with the world, regardless of the circumstances. She has shown that music can be a powerful tool for forging connections and providing hope, even when the world seems darkest. Below, you will find a comprehensive overview of Kirsti's educational and career milestones, bearing witness to her dedication and accomplishments as a top-tier violin artist.
Kirsti's story serves as a reminder that even in times of uncertainty and adversity, music can be a potent instrument for connection and inspiration. She is not merely a first-class violinist but also a soul-stirring artist who allows music to flow through her and touch the souls of those who listen.
Kirsti Hille – A violinist who performs not only before an audience but for the people who seek solace and joy in music.
Although Kirsti primarily engages in professional engagements today, you may still encounter her on Karl Johan in the center of Oslo on a beautiful day.
Education of Kirsti Hille
Kirsti Hille and the violin are simply a perfect match. But that is no coincidence, because in addition to her talent and passion for music and the violin itself, she has enjoyed a very professional and high-quality education. But see for yourself.
Educational qualifications
Musical education
Professors
Master classes
Educational qualifications
Master of Arts with distinction
Bachelor of Violin with distinction
Diploma in orchestral music
Postgraduate degree in chamber music
Musical education
Professors
Master classes
Kirsti Hille has played in some of the world's greatest and most famous orchestral halls during her career. She has experienced a lot and has had to prove her skills again and again, which she has always succeeded in doing with flying colours.
Orchestra and chamber music
Conductors
Orchestra and chamber music
Conductors