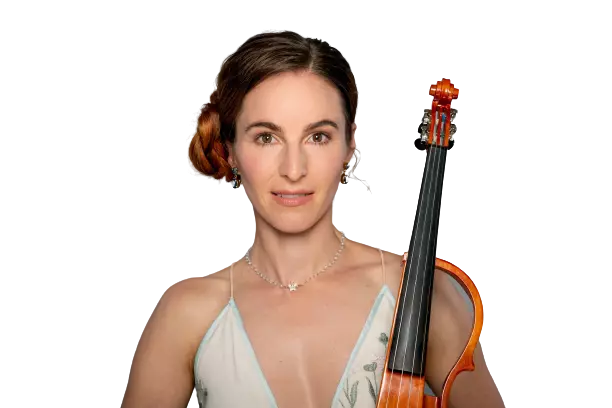 Hello, all music lovers and event enthusiasts!
Kirsti Hille's extraordinary talent on the violin was already evident in her early childhood. She quickly developed into a renowned and sought-after classical artist. Today she can already look back on an impressive career as a professional orchestral musician.
I'm Kirsti Hille, a passionate violinist who loves to create magical moments through music. I'm here to offer you an unforgettable experience for your next event. Whether it's a birthday party, corporate gathering, wedding, garden soirée, or holiday celebration, my show will be the perfect addition to create a unique atmosphere. With my diverse repertoire, ranging from classical masterpieces to today's popular hits, I'll ensure that your guests are completely enchanted. But it's not just about my music; I'm dedicated to tailoring my performance to your wishes and needs. Together, we can create a customized show that fits perfectly with the occasion. I love to collaborate and be a part of your vision for the event. You are welcome to listen to my music, and watch videos from my previous performances. Feel free to get in touch to discuss how I can contribute to making your event extraordinary.
Let's create a memorable moment together! Contact me today to secure an outstanding musical experience. I look forward to hearing from you!
Violin playing impressions
Kirsti Hille loves her violin and also plays at different places to share her passion with all people and to inspire them for her music. There are numerous videos on Kirsti's YouTube channel where you can see and hear her extraordinary talent. You can also book Kirsti for your event or learn to play the violin in her online academy, no matter if you are a beginner or already advanced.
Events - Book Kirsti for your event
Are you planning an event and still looking for a highlight? Then book Kirsti Hille for your event and inspire your guests with unique violin music. Whether it's a corporate event, wedding, birthday or any other event. Book Kirsti as a musical attraction and make your event a real highlight.
I just want to reiterate that it was a real pleasure to experience your fabulous violin performance at NorthArt the other day. I look forward to being able to request you on a later occasion!
Do you have any questions for Kirsti or about the services she offers? Just write her a short message. She will be happy to answer your questions as soon as possible.